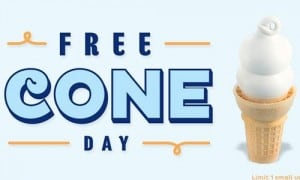 Donations will be accepted for Children's Miracle Network Hospitals®
In spirit of fan celebration, Dairy Queen kicks off its 75th anniversary with a Free Cone Day on Monday, March 16. Participating Dairy Queen and DQ Grill & Chill® locations will offer a free small vanilla soft-serve cone with a limit of one per customer.
"This is all about connecting with our fans and not just about telling them, but showing them how much we appreciate their loyalty. After all, our fans have been supporting us for 75 years, so we thought it would be fun to bring the celebration to them," said Barry Westrum, executive vice president of Marketing for American Dairy Queen Corporation. "We think this is a great day for our fans and our system. We can't wait."
"DQ® holds a very special place in the hearts of our fans and we appreciate that. So we are renaming our anniversary to a 'fanniversary' in their honor," said Westrum. "But Free Cone Day is just the beginning. We will surprise and delight our fans year-round with food and treat innovations that they have come to expect from us. We're extending the celebration beyond Free Cone Day because it's about more than just one day. It's about the people that have been making the Dairy Queen brand a part of their lives for almost a century."
During Free Cone Day, DQ® is also requesting donations for Children's Miracle Network Hospitals®, which raises funds to help save and improve the lives of kids treated at 170 children's hospitals across the U.S. and Canada. Over the last 30 years, Dairy Queen has raised more than $100 million for Children's Miracle Network Hospitals in local communities.
Take advantage of the DQ® Fanniversary by stopping by your participating DQ location to claim your free vanilla soft-serve cone. But don't forget to help support the Children's Miracle Network Hospitals® as well.